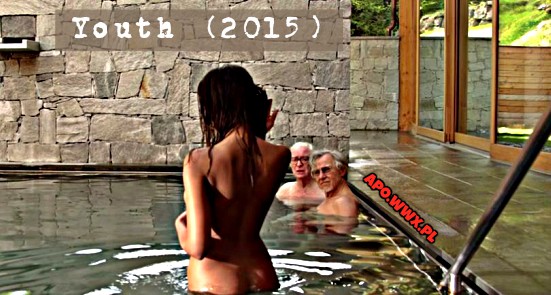 MŁODOŚĆ / YOUTH (2015)
GATUNEK – Dramat, LEKTOR.PL
OPiS FiLMU – Wybitny kompozytor (Michael Caine) otrzymuje od angielskiej królowej nieoczekiwaną propozycję. Piękna kobieta (Rachel Weisz) chce się dowiedzieć, dlaczego mąż porzucił ją dla dziewczyny (Paloma Faith), od której wszystko ją różni. Słynny reżyser (Harvey Keitel) szuka idealnego zakończenia dla swojego najważniejszego filmu. Charyzmatyczny aktor (Paul Dano), znany z roli w superprodukcji, chce znaleźć prawdziwe życiowe wyzwanie. Miss Universe postanawia wszystkim pokazać, dlaczego to ona jest najpiękniejszą kobietą na świecie. Wielka gwiazda (Jane Fonda) zjawia się po latach, by prosto w twarz powiedzieć mężczyźnie swojego życia, co naprawdę o nim myśli. Kilka letnich dni, podczas których wyjdą na jaw najgłębsze tajemnice, a wystawione na próbę zostanie powszechne pragnienie wiecznej młodości.
PLOT – Septuagenarian best friends Fred Ballinger and Mick Boyle are on vacation in the Swiss Alps, staying at a luxury resort. Fred is a retired composer of classical music; at the hotel, he is approached by an emissary for Queen Elizabeth II to perform his popular piece "Simple Songs" at Prince Philip's birthday concert. Fred turns down the offer, claiming he is not interested in performing anymore – although he still composes pieces in his head when alone. Mick is a filmmaker, and is working with a group of writers to develop the screenplay for his latest film, which he calls his "testament". Also with them is actor Jimmy Tree, who is researching for an upcoming role and frustrated that he is only remembered for his role as a robot. The hotel is inhabited by other quirky individuals, including a young masseuse, an overweight Maradona, and Miss Universe.
Fred and Mick reflect on their lives, admitting that their memories are fading and that they see little in their futures. Fred's daughter and assistant, Lena, is married to Mick's son, but the latter leaves her for pop star Paloma Faith. Lena stays at the resort and vents her anger at her father, who was always distant as she grew up. The emissary returns, and Lena cries as Fred explains that he won't perform "Simple Songs" because the soprano part belongs only to his wife and she can't sing anymore.
Mick completes his screenplay and is satisfied with it. The main role is written for aging diva Brenda Morel, who has starred in 11 of his previous films. Brenda surprises Mick by arriving at the resort, and telling him that she is taking a television role instead; cinema is the past, she says, and Mick hasn't made a good film in years. Disheartened, Mick jumps off a balcony in front of Fred. Fred decides to visit his wife for the first time in years. She is senile, and living at a care home in Venice. He then returns to England to conduct "Simple Songs" in front of the Queen and Prince.