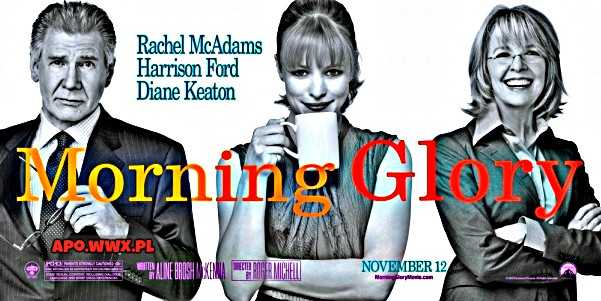 Dzien dobry TV / Morning Glory  (2010) 
GATUNEK – Komedia, Dramat, Romans.
LEKTOR PL
OPiS FiLMU – Producentka lokalnych wiadomości, Becky Fuller (Rachel McAdams) znalazła w końcu wymarzoną pracę w wielkim mieście – przejmuje władzę nad porannym programem nadawanym z Nowego Jorku. Jednak już od samego początku to, co miało być spełnieniem marzeń, zaczyna przemieniać się w koszmar.
Na jej drodze na szczyt kariery pojawia się poważna przeszkoda: legendarny Mike Pomeroy (Harrison Ford), ekscentryczny, zarozumiały i zupełnie nie nadający się do współpracy prezenter wiadomości, który może stać się największym przekleństwem Becky… i jedyną szansą na uratowanie programu.
Decyduje się na spróbowanie czegoś nowego: zestawienie ze sobą szorstkiego stylu byłego prezentera Pomeroya z rozgadaną i stale przekomarzającą się gospodynią porannego programu Colleen Peck (Diane Keaton) Zmieniony program nosi znamiona katastrofy – następuje starcie osobowości, a Pomeroy nie zamierza zajmować się pogodą, plotkami, ani – Boże broń – gotowaniem.
Młoda producentka musi walczyć o ratowanie reputacji, pracy i właśnie rozwijającego się romansu z kolegą (Patrik Wilson).
PLOT – Aspiring news producer Becky Fuller has dreamed since childhood of working for the Today show, but her dedication to her career is off-putting to potential suitors. After being laid off from her job at the local Good Morning New Jersey, her mother advises her to give up her dream before it becomes an embarrassment. However, Becky perseveres, sending many different résumés out. She finally receives a call from IBS, which is looking for a producer on its struggling national morning show, DayBreak.
After a discouraging job interview with Jerry Barnes, who dismisses both her and DayBreak as also-rans, Becky bumps into one of her heroes, veteran television journalist Mike Pomeroy in an elevator. She is brushed off rudely, but is told by the other passenger that this is just typical of Mike. Seemingly against his better judgement, Jerry hires Becky to beDayBreak's executive producer. On her first day, Becky realizes she has signed on to a show in turmoil, lacking in direction and money. After meeting the acerbic but long-suffering co-host Colleen Peck, who predicts Becky's demise, she fires the conceited co-host Paul McVee, much to the delight of her co-workers. Becky chooses a reluctant Mike as Colleen's new co-host. Mike is under contract to IBS, but has managed to mostly escape being utilized while still getting paid. Becky finds a clause in his contract by which he is obliged to accept an official job offer or lose his salary, effectively blackmailing him into accepting the position.
Becky gets to know Adam Bennett, another IBS producer who had worked with Mike previously. After initially teaming up to deal with Mike, they begin dating, and he is initially supportive of her dedication to her job. Pomeroy proves to be hard going, throwing his weight about, trying to sabotage his debut on the show by getting drunk, refusing to banter with Colleen on air, and ensuring he only does serious news stories by making use of a clause in his contract that allows him to refuse certain assignments, like cooking segments, that he considers beneath him. As ratings begin to drop, Becky is told that DayBreak may be canceled.
After a heated confrontation with Mike, Becky snaps and decides on a radical approach to save the show. She improves ratings by persuading Ernie to do the weather while doing stunts, such as riding a new Six Flags roller coaster. Colleen also expresses a keen interest in Becky's campaign to rejuvenate the show, and appears on a number of colorful segments that help the show's ratings. Jerry remains unconvinced that Becky can get the ratings up enough to stave off cancellation. Adam, not realizing what is on the line, teases Becky about how caught up she is in improving the ratings, but she sees it as a criticism that she has heard from previous men, and walks out. Mike tells her that he was once the same way, but ended up with no life outside of work.
During a staff meeting, Pomeroy shows interest in doing a story, surprising colleagues. Becky goes along but realizes that he is going to the governor's summer house instead of the destination she expected. Mike ends up confronting the governor on charges of racketeering, and breaks the story of his arrest on live television. This increases DayBreak‍‍ '​‍s ratings enough to secure another year for the show. Due to DayBreak‍‍ '​‍s rise in popularity, Becky receives a job interview from Today. During the interview, DayBreak is on. Between segments, Colleen tells Mike about the interview, and that his refusal to adapt has driven Becky away. He goes to the kitchen where food segments are done. Becky watches in shock as Pomeroy tells the viewers how to make a good frittata. Becky runs back to the set and decides to remain at DayBreak.
Dzien dobry TV / Morning Glory (2010) PL