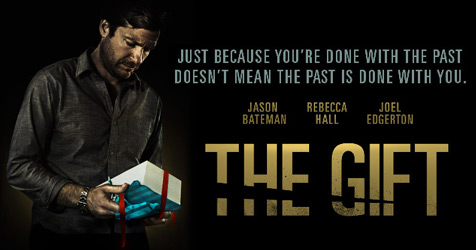 Dar / The Gift (2015) 
GATUNEK – Mystery, Thriller, LEKTOR.PL
OPiS FiLMU – Młode małżeństwo – Simon i Robyn – kupuje wymarzony dom, by w nim rozpocząć nowe życie. Przyszłość rysuje się w pięknych barwach, szczególnie że za kilka miesięcy na świat ma przyjść ich wymarzone dziecko. Spotkany przypadkiem dawny kolega Simona staje się nowym przyjacielem domu. Miło mieć kogoś znajomego w nowej okolicy. Kogoś, kto jest tak miły, że przesyła czasem drobne podarunki. Gdy jednak podarunki stają się niepokojące, a potem przerażające, staje się jasne, że nowy przyjaciel jest kimś innym, niż się wydawało. Kimś, kogo łączy z Simonem mroczna przeszłość, za którą trzeba będzie zapłacić.
PLOT – A married couple, Simon and Robyn Callum, relocate from Chicago to a Los Angeles suburb after Simon finds a new job. While out shopping, they run into Gordon "Gordo" Moseley, Simon's former high school classmate. Gordo begins dropping in unannounced, and delivering gifts including koi for their pond. He makes Simon uncomfortable, but Robyn thinks Simon is being unkind.
Gordo invites the couple to his large and elegant home. He receives a phone call and leaves abruptly; when he returns, Simon tells him to stay away from his family. The next day, Robyn finds the koi dead and their dog missing. Simon drives to Gordo's house to confront him, but discovers it is not his home. In the days following, Robyn suspects she is not alone in the house while Simon is at work. Unable to sleep, she steals prescription pills from her neighbor and one morning faints.
The dog returns, and Robyn receives a letter from Gordo apologizing. She is puzzled by Gordo writing that he is "willing to let bygones be bygones"; Simon says he does not know what it refers to. He refuses to make peace with Gordo, and tells Robyn her pills are making her paranoid.
Robyn becomes pregnant. At her baby shower, Simon's sister tells her that, at school, Simon and his friend Greg reported that Gordo was being molested. Gordo was bullied afterwards and had to transfer. Robyn finds Greg, who reveals that the molestation story was fabricated by Simon, who was a bully in school with a real "mean streak." As a result of the story, Gordo's father thought he was homosexual and nearly killed him. She searches Simon's home office and discovers that he has run background checks on Gordo and a person named Danny McDonald.
Simon learns he has beaten Danny for a promotion after troubling information was revealed from Danny's previous job. Robyn confronts Simon about Gordo, but he denies responsibility for his actions. Simon tracks down Gordo and half-heartedly apologizes, but Gordo does not accept his apology. Furious, Simon attacks him.
Simon's promotion party is interrupted by Danny, who says Simon fabricated the information that ruined his career. Robyn goes into labor and gives birth to a boy. The next morning, Simon is fired, and Robyn tells him she wants a separation.
At their house, Simon finds another gift box containing footage of Gordo preparing to molest Robyn after she fainted months earlier; the footage cuts out. Gordo visits Robyn in the hospital to congratulate her. Simon rushes to the hospital, where Gordo calls him, taunts him and refuses to say whether he attacked Robyn or who the baby's father is.