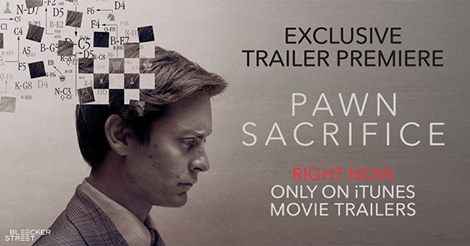 PAWN SACRIFICE / PIONEK (2014) 
OPiS FiLMU – Bohaterem filmu jest genialny amerykański szachista Bobby Fischer. Wychowywany samotnie przez matkę (Polkę) Bobby w młodym wieku zaczyna interesować się szachami. A szachy zaczynają interesować się Bobbym – jeden z najlepszych szachistów Nowego Jorku po zobaczeniu gry małego chłopca zgadza się na to, by zostać jego trenerem. Godziny poświęcone na grze w szachy opłacają się, Bobby jest coraz lepszy, a wkrótce może się cieszyć z tytułu mistrza Stanów Zjednoczonych. Ma piętnaście lat, cały szachowy świat przed sobą i wizję zostania najmłodszym szachowym mistrzem świata w historii. Co by się nie wydarzyło – jest jasne, że wcześniej czy później na drodze do tego celu stanie Boris Spasski. Szybko jednak okazuje się, że największym przeciwnikiem Fischera może być sam Fischer, którego rosnąca paranoja i wyrażane bez zastanowienia kontrowersyjne opinie nastawiają przeciwko niemu prawie wszystkich. Czy w takiej sytuacji w ogóle można skupić się na szachach?
PLOT – In a gripping true story set during the height of the Cold War, American chess prodigy Bobby Fischer (Tobey Maguire) finds himself caught between two superpowers when he challenges the Soviet Empire. Also starring Liev Schreiber and Peter Sarsgaard, PAWN SACRIFICE chronicles Fischer's terrifying struggles with genius and madness, and the rise and fall of a kid from Brooklyn who captured the imagination of the world.
GATUNEK – Biograficzny, Dramat
[imdb id="tt1596345″]
Pionek / Pawn Sacrifice (2014) PL BDRip XviD-RAiN
Pawn Sacrifice 2014 BDRip x264-DiAMOND
[su_button center="yes"]Pawn Sacrifice (2015)[/su_button]