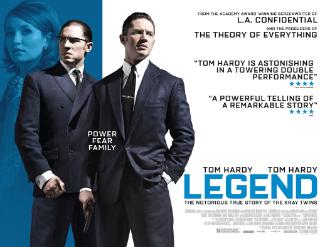 LEGEND (2015)
GATUNEK
Biograficzny, Kryminalny, Thriller  
OPiS FiLMU
Oparta na faktach opowieść o narodzinach i upadku gangsterskiego imperium braci bliźniaków Rona i Reggiego Kray\'ów, którzy w barwnych latach 60-tych terroryzowali Londyn. W walce o miejsce na szczycie byli zawsze bezlitośni i nierozłączni, ich brutalność przeszła do legendy. Jednak gdy pojawiły się wielkie pieniądze, władza i kobiety, ich drogi zaczęły się rozchodzić. Pojawiły się odmienne pomysły na prowadzenie biznesu, a w konsekwencji konflikty, na które tylko czekali ich wrogowie.
PLOT
Reggie Kray is a former boxer who has become an important part of the criminal underground in 1960s London. At the start of the film, his twin brother Ronald is locked-up in psychiatric prison for pathological violence and psychiatric instability. Reggie manages to pull strings to obtain the premature release of his brother, who is then quickly discharged from psychiatric prison. The two brothers then unite their efforts in controlling a large part of London's criminal underground.
One of their first joint efforts is to muscle in on the control of a local night club which they obtain by extortion and brutal violence. Although Reggie manages to start an affair with Frances, the sister of one of his crime partners, which leads to marriage, he is nonetheless imprisoned for a previous criminal conviction which he cannot evade. While Reggie is in prison, Ronald's psychopathic problems and violence lead to severe setbacks at the night club. The night club is almost forced to close after he chases away most of the customers and because of his bad management.
Reggie is finally released from prison and the two brothers unite again after an all out fist fight on the first night after Reggie's release, though they manage to partially patch things up. The brothers are approached by a crime syndicate deal from the United States coming from Angelo Bruno of Philadelphia, who makes a fifty-fifty deal with Reggie to split underground London gambling profits in exchange for local protection from the Kray brothers.
Profits are initially highly lucrative for the Kray brothers, though Ronald's psychopathic violence continues to cause problems with Scotland Yard, which opens a full investigation on the Kray brothers. Reggie's relationship with Frances also falls apart and eventually she commits suicide with an overdose of prescription drugs she has been taking. As their criminal activities progress, the brothers are unable to control the escalating Scotland Yard investigation of Detective Superintendent Leonard "Nipper" Read who soon arrests Ronald. The final scene shows "Nipper" Read along with a police squad and an issued warrant breaking down the door to Reggie's apartment in order to apprehend him. The closing captions indicate both brothers receiving criminal convictions for murder before finally dying several years apart at 1999.
[imdb id="tt3569230″]