Bethlehem (2013)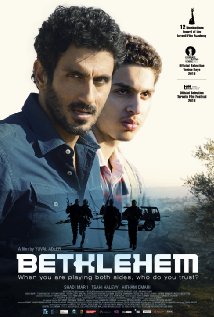 OPiS FiLMU – Film opowiada o młodym Palestyńczyku, który zostaje zwerbowany przez izraelskie służby
wywiadowcze. Chłopak odkrywa, że ktoś planuje zamordować jego brata.
Relacje między izraelskim oficerem a jego nastoletnim informatorem, który jest bratem palestyńskiego przywódcy.
PLOT – The screenplay was written by Yuval Adler and Ali Waked from 2007 through 2010. The script went through multiple drafts and was heavily influenced by research that the two conducted concomitantly to writing it, interviewing both Israeli Shin Bet operatives and Palestinian militants from Al-Aqsa Martyrs' Brigades and Hamas At the time of writing the screenplay, Ali Waked was a correspondent for Ynet covering Palestinian affairs. Many incidents described in the film were directly influenced by actual events from the period. In 2010, the screenplay was included in the Berlinale co-production market which helped attach Belgian producers Entre Chien et Loup and German producers Gringo Films to the film. In January 2011, the Israeli Film Fund and the Jerusalem Film Funds gave their support to the project. English sales agent WestEnd picked up the film.
The casting process took almost a year.[11] The three lead actors in the film, Shadi Mar'i who plays Sanfur, Tsahi Halevi who plays Razi and Hitham Omari who plays Badawi, were non-professionals who had never acted in a film before. Omari, a Palestinian from Kafr 'Aqab, was discovered accidentally during a location scout. Halevi was discovered just weeks before filming began; he was an aspiring singer who had just finished appearing on the first season of Israeli singing competition show The Voice Israel, where he had reached the final four. Mar'i, who was not even 17 at the time of the shoot, was discovered after hundreds of teenagers were auditioned. Many of the extras and bit players (both Israelis and Palestinians) were reenacting in the film scenes they experienced in their own lives.
GATUNEK –  Dramat , Thriller
[imdb id="tt2915160″]
Bethlehem (2013) LIMITED SUBBED DVDRip x264-BiPOLAR